DUE DILIGENCE INVESTIGATIONS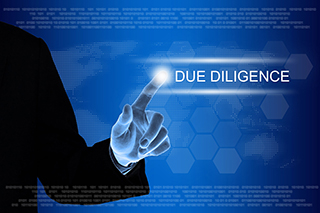 The Due Diligence investigation is an activity aimed at globally verifying a specific subject (natural and legal person), in order to delineate the real profile, not only from the economic and financial point of view, and allow the client to make complete and objective evaluations.
The Due Diligence Investigations on natural persons (for example an agent) or on companies, to be performed nationally and internationally, are usually required in the following cases:
Mergers and acquisitions
Joint venture
Outsourcing
Franchising
Licensing
Corporate restructuring
Commercial agent certifications
Other economic and financial operations
These are particularly required services, for which we boast numerous appreciations, received over the years from many international companies of considerable economic importance.
We have analyzed the profile of numerous Italian companies, their managers, and their employees. The analysis has been performed at different levels in order to verify the documentation provided during commercial negotiations.
Difficulties have emerged in different occasions, especially in relation to the economic and financial capacity of the clients, the reputation of their managers and partners, and the real potentiality of their structures.
MIlano
Centro Direzionale Milanofiori
Strada 4, Palazzo A5
20057 ASSAGO (MI)
Roma
P.le Roberto Ardigò, 30/a
00142 Roma
Tel. +39 06 45442737
Fill in the form below by asking us a question or describing your need!
One of our experts will contact you without obligation to provide the requested information!